At-Home STD Tests Could Help More People Get Screened
Twice as many Londoners got tested when they had this option.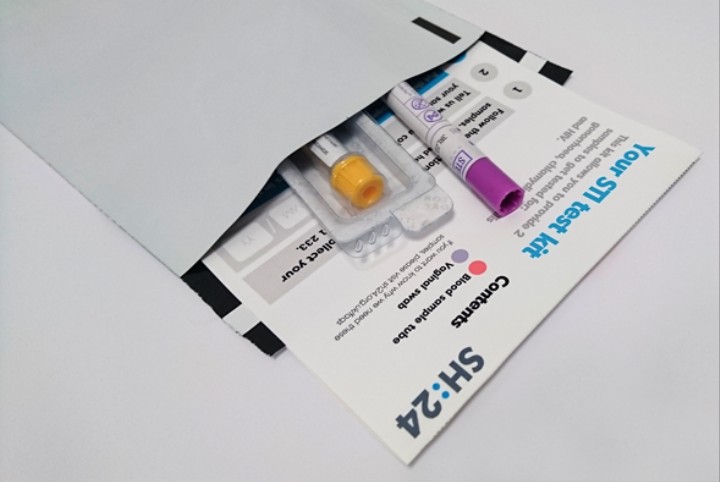 At-home testing kit from SH:24
Londoners were almost twice as likely to get checked for sexually transmitted infections when given the option to mail in samples of their biological material than they were when given info about nearby walk-in clinics, according to a new study from the London School of Hygiene and Tropical Medicine.
Researchers expected that e-STI testing, as it's called in the study, would be more popular, because of both the convenience and complete privacy it offers. "It's rapidly developing. You see ads for it all over the tube," says Paula Baraitser, a co-author of the study and a sexual health researcher at King's College London.
Nonetheless, Baraitser says there's a perception that telemedicine is "for high-flying executives"—people who don't have the time to get medical services in person. She and her cohorts wanted to quantify how much more effective e-STI testing is at getting people screened when the option is presented to average Londoners.
The researchers went to two low-socioeconomic boroughs, Lambeth and Southwark, which past research had shown to have the highest STI rates in London, Baraitser says. They scoured streets, pubs, markets, barbershops, and other public places for people ages 16 to 30, the prime fornication years in the UK, apparently.
Researchers presented themselves as public health clinicians and asked the bystanders if they'd had at least one sexual partner in the last year. (Baraitser says this wasn't as awkward or giggle-eliciting as you may expect. "People are concerned about STIs and are serious when getting information about them," she says.)
---
Watch More from Tonic:
---
If they said they'd gotten some action in the past 12 months, a researcher asked them for their phone number. The researchers collected more than 2,000 people's numbers and, at random, they received a text with either a link to information about e-STI testing or a list of seven walk-in clinics plus contact information. People who chose to take an e-STI test received kits in the mail from SH:24. They sent in blood samples and either urine collections or vaginal swabs, depending on gender and got results back via text message or a phone call. (People were free to use whatever testing method they wanted and some people given info about mail-in testing actually chose the face-to-face route.)
Six weeks later, the researchers asked people if they'd gotten tested and checked that answer against their records (participants opted into this). They found that 50 percent of people who got info about e-STI testing followed through, but only 26.6 percent of people who were told about their local clinics showed up to get tested. So, offering e-testing alongside traditional methods led to almost twice as many people getting tested.
People in the e-STI testing group were diagnosed with an infection in 2.8 percent of cases, and the walk-in-clinic group in 1.4 percent of instances. The authors say it's the first study to investigate whether people would use e-testing for syphilis, HIV, chlamydia, and gonorrhea.
The team fell short of its recruitment target of 3,000 people so the group wasn't large enough for them to analyze differences in the STIs diagnosed and treatment rates; it's something that needs further research.
But Baraitser says the message is clear: Give people more access to STI testing and it will increase the rate of screening.
She adds that one important step in getting people to use the e-STI tests was explaining that they're just as effective as what's offered when you go to a clinic. "These are not separate services," Baraitser says. "It's just a different modality of care, and if more people knew about it, we could increase access to this service."

Read This Next: Finally, the Amazon Prime of STD Testing Is Here