The Army Will Now Consider People Previously Deemed Unfit for Service
Senator John McCain blasted the move, which comes as the Army faces a higher recruitment goal than last year.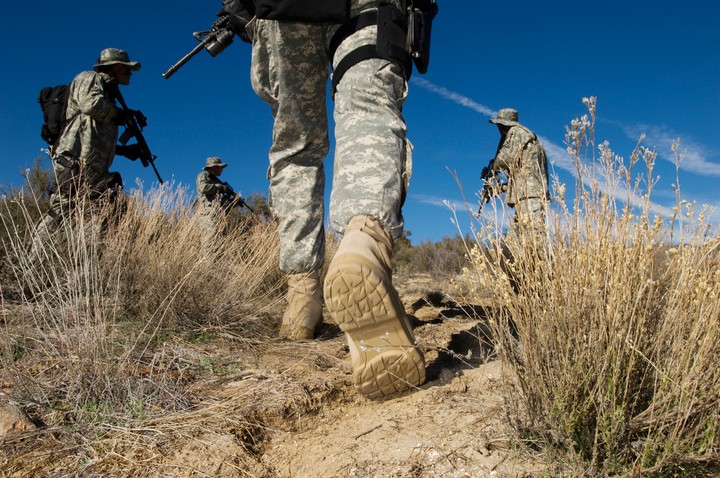 IPGGutenbergUKLtd/Getty Images
Last month, Maj. Gen. Jeffrey Snow, who leads recruiting for the Army, explained a challenge facing the military in a good economy: "It's in an environment where unemployment is 4.5 percent. We've got our work cut out for us." Not only can people increasingly find jobs in the private sector, the Army has higher recruiting goals to hit: it's tasked with signing up 80,000 new soldiers through September 2018, up from last year's goal of 69,000.
To meet its 2017 recruitment goal, the Army paid $424 million in signing bonuses, up from $284 million in 2016, and $8.2 million in 2014. The Army also granted more waivers for past marijuana use—usually a disqualifying offense—and accepted more recruits who scored poorly on aptitude tests. And its goal is 11,000 soldiers higher this year.
Since August, the Army has reportedly opened recruiting to another group of previously banned people: those with certain mental health conditions. According to documents obtained by USA Today, the Army will now consider waivers for recruits with a history of "self-mutilation," bipolar disorder, depression, and drug and alcohol abuse. (The service issued a ban on such waivers in the middle of a wave of troop suicides in 2009.)
The Army hasn't said how many people have been admitted via these waivers. In a statement to USA Today, Army spokesperson Lt. Col. Randy Taylor, said the Army can expand waivers for mental health in part because it now has better access to recruits' medical information. Tonic has asked the Army to clarify how they're obtaining this additional information and what it consists of; we'll update this post when we hear back.
According to a September memo obtained by USA Today, potential recruits with histories of self-mutilation must provide "appropriate documentation" including a psychiatric evaluation and "clearance" to receive a waiver. That documentation includes medical records, photos of self-mutilation submitted by the recruiter, and a detailed statement from the applicant. If the injury was work related, an employer can offer evidence to support the waiver.

Details for submitting waivers related to bipolar disorder, depression, and substance abuse weren't outlined by the paper, but one memo obtained by USA Today reads: "For all waivers, the burden of proof is on the applicant to provide a clear and meritorious case for why a waiver should be considered."
---
Watch More from Vice News:
---
But when reached for comment, the Army disputed the policy changes outlined by USA Today. Lt. Gen. Thomas C. Seamands, deputy chief of staff of Human Resources Command, said in a statement to Tonic:

"Recent reports that the Army has changed medical entrance standards for those with mental health issues are inaccurate. The Army has made no such policy change and follows the accession standards prescribed by the Department of Defense.

"Previously, these waiver requests could only be approved at the Department of Army Headquarters level. What the Army has done is change the delegation authority over who may consider a waiver, allowing those requests to be reviewed and approved by U.S. Army Recruiting Command, or in the case of the National Guard, by the State Adjutant General. Unfortunately, this simple, administrative change has been substantially misinterpreted.

"It's also important to note that the conditions themselves have been unfairly characterized. For example, a child who received behavioral counseling at age 10 would be forever banned from military service were it not for the ability to make a waiver request. We're not prepared to close the door on such individuals who are otherwise medically, mentally and physically qualified for military service. We think this is the right thing for our Army, and the selfless young men and women who wish to serve."
On Tuesday afternoon, USA Today updated its story to include two Army documents from September that substantiate the article's claims. These documents state that self-mutilation, depression, bipolar disorder, and drug and alcohol abuse are no longer "nonwaiverable," that is, automatically disqualifying, and waivers will be considered for recruits with these conditions. We've asked the Army to comment on the documents; we will update this post if the Army responds.
Senator John McCain, who chairs the Armed Services Committee, blasted the Army for not being told about this policy in advance. "It's a problem that, frankly, this committee is having with this administration," McCain said. "We should have been told about this before it showed up in a USA Today article."
McCain discussed the report during a confirmation hearing for Army general counsel nominee, James McPherson. He read excerpts of the story to McPherson, who called the report "troubling." McCain threatened to halt the confirmation process until the Army provided more information and to introduce legislation to ban the waivers. "Self-mutilation is something that…it comes home to roost," McCain said. The ranking Democrat on the committee, Senator Jack Reed, also spoke out against the new policy, saying: "We cannot sacrifice quality for quantity. It's that simple. We have to do both and we have to work together to get it done."
The Army isn't the only military branch to expand its guidance for medical waivers. The Air Force similarly hopes to boost recruitment with a January change that relaxed rules for marijuana use among potential recruits. It also decided to consider, on a case-by-case basis, recruits with conditions like eczema, asthma, and Attention-Deficit/Hyperactivity Disorder, or ADHD; which were previously disqualifying. However, the Air Force still won't accept people with a diagnosed substance abuse disorder. (Meanwhile, the Army will still not consider people with ADHD, per the documents obtained by USA Today.)

The Air Force also emphasized that airmen admitted under its waivers would not need extra medical attention. We've asked the Army for more information on how they'll ensure that recruits admitted with these conditions would receive adequate care; we will update this article if the Army responds.
Ultimately, the Army may now be admitting people who require specialized care. Elspeth Ritchie, a psychiatrist and former Army colonel who's an expert on military service waivers, told USA Today that people with a history of mental health issues are more likely to see those issues return than people who've never had problems. "It is a red flag," she said. "The question is, how much of a red flag is it?"
Read This Next: Poor Healthcare Is to Blame for 20 Veteran Suicides a Day