Protecting Undocumented Moms Improves Their Kids' Mental Health
According to a sadly relevant new study on DACA, or Deferred Action for Childhood Arrivals.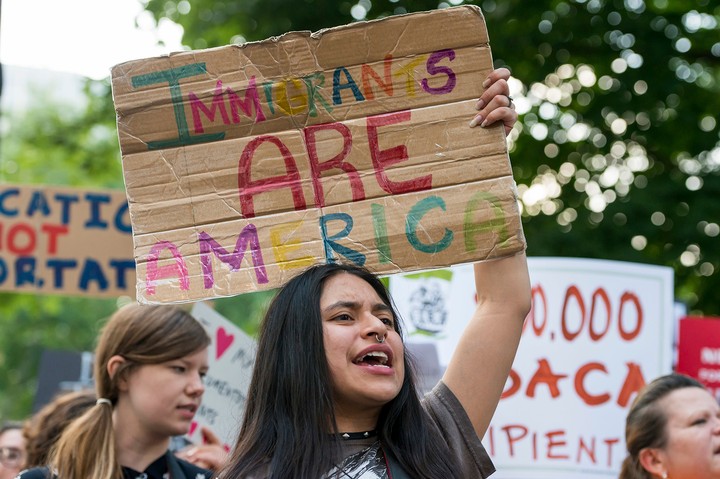 Albin Lohr-Jones/AP Images
Like so much of the Trump administration's policies, its stance over what to do with one of former President Obama's signature accomplishments—the Deferred Action for Childhood Arrivals, or DACA, program—has been a confused mess.
Established via executive order in 2012, DACA grants certain undocumented immigrants temporary protection from being deported back home, while allowing them to obtain renewable work visas. These eligible immigrants, known as Dreamers in reference to a similar but more expansive immigration bill proposed since the 1990s, are people who arrived in the country as minors and have since maintained good standing. By early 2017, more than 800,000 such immigrants had been accepted into DACA.
While President Trump often pledged to end DACA during his campaign, calling it unconstitutional, he more recently promised Dreamers during an interview soon after his inauguration that they "shouldn't be very worried." In June, the Department of Homeland Security announced the program would be kept in place, with DACA recipients still being eligible for visa renewals (a deferment period lasts for two years).
Late last week, however, reports emerged that the administration was again looking to kill the program and, this afternoon, Fox News reported that Trump is expected to announce plans to end the program as early as Friday. The about-face has been prompted by the threat of a lawsuit against the government by several Republican-led states, including Texas and Alabama. In a letter to Attorney General Jeff Sessions, Texas Attorney General Ken Paxton gave the administration until September 5th to repeal DACA or they'd sue. Even though some people in the administration like Chief of Staff John Kelly aren't on board with such a quick decision, others like Sessions are forging ahead, according to Maggie Haberman of The New York Times. A senior administration official told Fox that Trump will announce the end of DACA and allow current Dreamers to stay in the country until their work visas expire, which could be up to two years. White House Press Secretary Sarah Huckabee Sanders denied the entire Fox report in a briefing.
Both dreamers and DACA supporters have been distraught over what will happen should the program come to an abrupt end. But one of the more hidden and heartbreaking impacts of a DACA repeal may involve the mental health of children born to those Dreamers, a study published Thursday suggests.
Stanford University researchers looked the medical records of 5,600 undocumented immigrant mothers living in Oregon and figured out how many children were born to mothers who were too old to be eligible for DACA and how many kids' mothers were eligible. (They chose Oregon because the state has an Emergency Medicaid program that offers pregnancy coverage to undocumented women, which provides a large sample of people who might otherwise decline to identify themselves as undocumented.)
Next they compared the mental health records of about 8,600 children born before and after DACA was implemented in 2012, looking for mental ailments commonly caused by outside stress like anxiety disorder or adjustment disorder. (Children born in the US are eligible for regular Medicaid, so the researchers could track their medical records.) Unsurprisingly, there were no major differences between the groups of kids before 2012, but afterward, children born to DACA-eligible moms were half as likely to be diagnosed with these disorders. All told, only 3.3 percent of these children were diagnosed with these disorders, compared to 7.8 percent of children born to DACA-ineligible moms. Childhood mental illness can not only affect people's health long term, but it's also expensive: it accounts for the highest portion of pediatric healthcare spending, totalling an estimated $13.8 billion in 2011.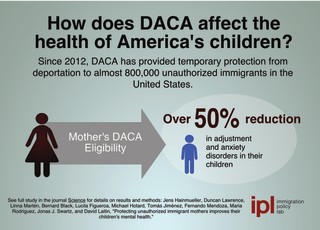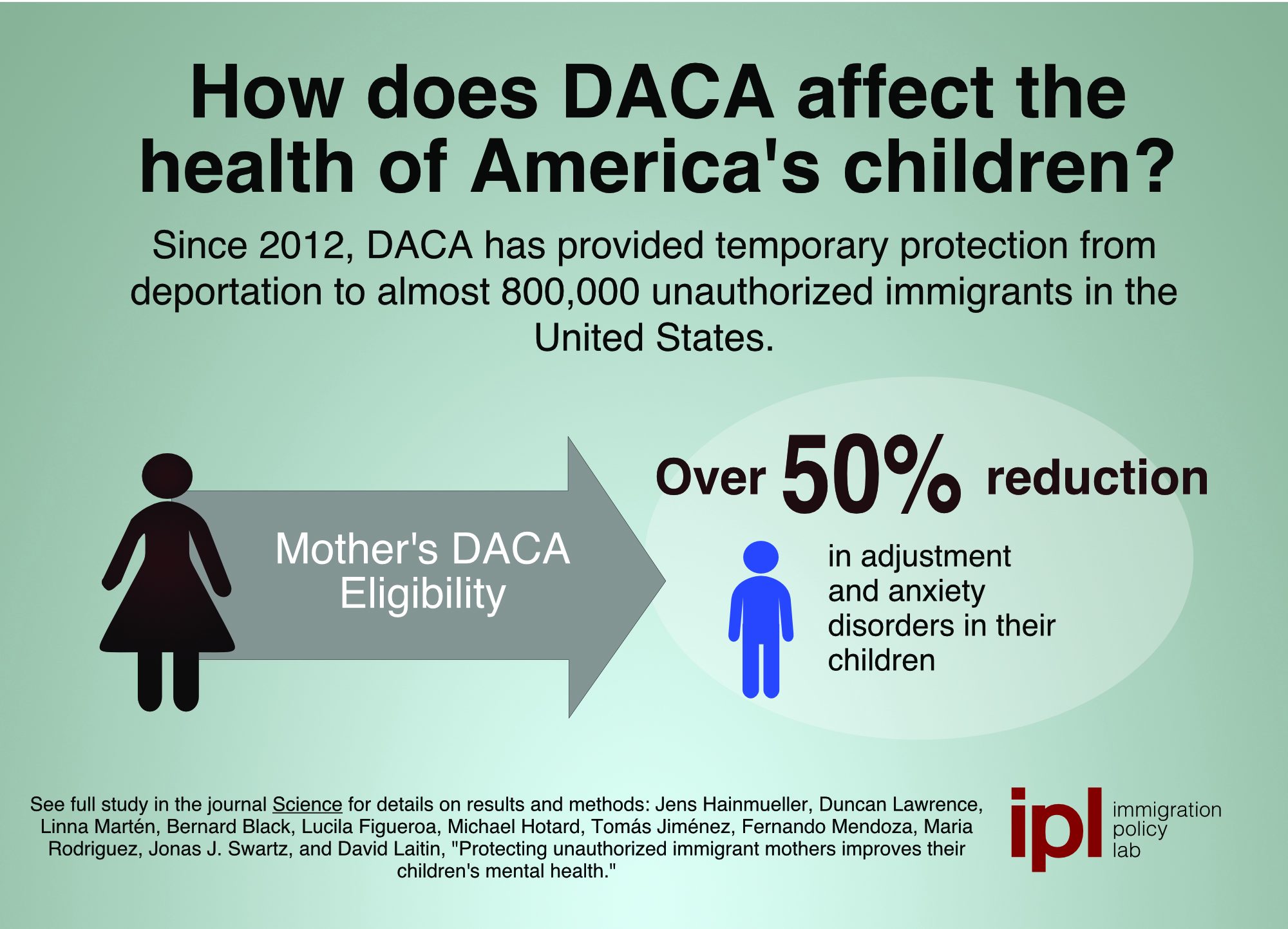 There are about 4 million children born in the US have who have at least one undocumented parent.
"Our results imply that expanding deferred action, or providing more permanent protection, to the millions of unauthorized immigrant parents who do not meet the current DACA eligibility criteria could equally promote the well-being of their children," said Duncan Lawrence, executive director of the Stanford Immigration Policy Lab, in a statement. "This would have important implications for this next generation of American citizens."
Studying how immigration policy affects actual undocumented immigrants and their families has long been difficult, thanks largely to their fear of deportation. But the protections afforded by DACA have allowed researchers a better look lately. In March, a study of national survey data found that DACA-eligible Latinx people were half as likely to experience depression symptoms than those who weren't eligible. The costs of ending DACA would be massive, in healthcare and in other areas: A report released this month estimated the country would lose more than 700,000 employees since the vast majority of Dreamers are working, and employers would end up paying $3.4 billion in turnover costs to replace them.
Given how these positive effects have sprouted up in so relatively short a time, though, it's likely the fallout from a repeal of DACA, coupled with an aggressive push for more deportations, may be just as sudden and devastating to these already vulnerable families.
"Compared to other social determinants of children's health, this is the only one I know that can be changed by a simple legislative or executive act," said study author Fernando Mendoza, a professor of pediatrics at Stanford.
Read This Next: Obama Helped Make Latinx Americans Less Depressed