Having an Egg Allergy Isn't a Reason to Skip the Flu Shot
The flu vaccine is safe for people with egg allergies, say multiple expert groups.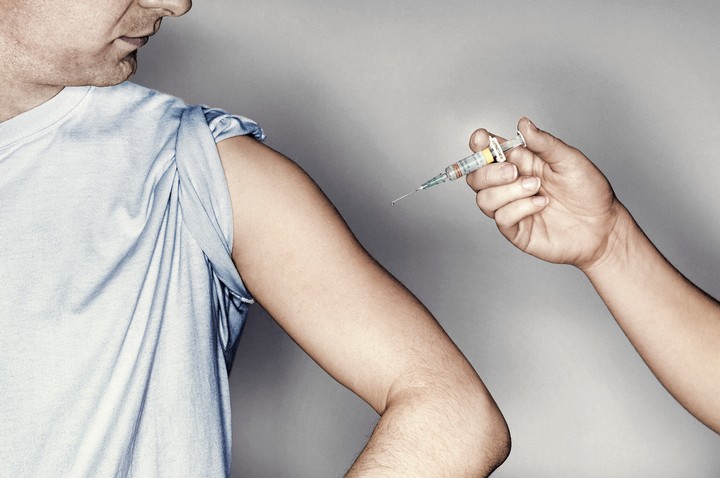 John Rensten/Getty Images
People who are allergic to eggs no longer need to worry about getting flu shots, according to new guidelines published in the journal of the American College of Allergy, Asthma, and Immunology (ACAAI).
Because most flu vaccines are grown in eggs and contain a small amount of egg protein, patients with the allergy are often told to avoid the shot or take special precautions. The guidelines emphasize that the annual flu vaccination—the most effective way to avoid the illness and prevent its spread—is totally safe for anyone with an egg allergy.
But to this day, healthcare providers often ask if people getting a flu shot are allergic to eggs. "We want health care providers and people with egg allergy to know there is no need to ask this question anymore, and no need to take any special precaution," Matthew Greenhawt, chair of the ACAAI Food Allergy Committee and lead author of the practice parameter, said in a statement. "The overwhelming evidence since 2011 has shown that a flu shot poses no greater risk to those with egg allergy than those without." Specifically, the authors said that the allergic reaction anaphylaxis happens at the same rate (about one per one million) no matter whether someone is allergic to eggs or not.
Flu infection takes a serious toll every year in the United States. During the 2015 to 2016 flu season, more than 300,000 people were hospitalized in the US with the illness, including more than 15,000 children younger than 5 years old, according to estimates by the Centers for Disease Control and Prevention (CDC). The flu kills tens of thousands of people every year, including an estimated 400 children and teens last year.
Those numbers for children are important, because egg allergy primarily affects young children, the authors say. As many as 2 percent of US children have an egg allergy, and 29 percent of that group also have asthma. Having asthma puts them at particular risk for complications from the flu, but until recently many healthcare providers urged them to avoid getting a shot, or warned them of the need for special precautions, like getting the flu shot at an allergist's office, seeking a vaccine that doesn't contain any traces of eggs, or being monitored for 30 minutes after getting their shot. These things could keep them from getting vaccinated at all, leaving them more vulnerable to infection.
Studies have shown, though, that the vaccine—whether given via injection or a nasal mist—doesn't contain enough egg protein to provoke an allergic reaction, with among those with a severe egg allergy. (But head's up: The CDC says the mist should not be used this year because of the kinds of virus circulating.)
---
Watch More From Tonic:
---
John Kelso, a member of the ACAAI and co-author of the guidelines, explained the need for an update. Though the previous guidelines from the ACAAI, issued in 2013, declared that people with egg allergy were perfectly fine taking the flu shot, other professional and governmental organizations had continued calling for aforementioned special precautions, he told Tonic via email.
In fact, according to the ACAAI, none of those things are necessary. Patients don't even need to be asked if they have an egg allergy. The CDC agrees, as does the American Academy of Pediatrics, but these groups only relaxed their standards last year and the idea persists. Still, the CDC says that anyone who's ever had a severe allergic reaction to a flu vaccine (like anaphylaxis) should not get the shot again. But the ACAAI guidelines say these people should be evaluated by an allergist before subsequent vaccinations, rather than a blanket recommendation against future shots, so ask your doctor.
Widespread vaccination helps protect us collectively and as personally. "It's very important that we encourage everyone, including children with egg allergy, to get a flu shot," Kelso says.
The CDC recommends that people get the flu shot by the end of October if possible, but it's still not too late to benefit from the vaccine, especially as the virus spreads. They say providers should offer the shot into January and beyond as flu activity can last into the spring.
So, get the flu vaccine to help prevent its spread and, while you're at it, limit close contact with sick people, cover your mouth and nose when you sneeze, and wash your damn hands.
Read This Next: 3 Out of 4 Kids Who Died From the Flu Didn't Get a Flu Shot